Gecco – A modular programmable IoT interface unit
A modular interface unit that meets the needs of the new generation of technology for alerting, remote control, and remote monitoring in the PPDR system environment.
GECCO enables the required functionalities in both fixed installations and vehicles. As technology and operational needs evolve, GECCO keeps up with the development.
With the GECCO interface unit, you can:
Alert
Remote control
Monitor
Interconnect
Versatile connections and features
Extremely versatile connections, features and programmability
Developed especially for use in PPDR operational environment
Allows use of legacy and new systems in parallel
The modular basic structure ensures longevity and cost-effectiveness,
from simple basic use cases to demanding system applications
High-quality Finnish design and production
From basic functions to demanding applications – customized for your needs
Python-based configuration enables highly efficient maintenance and device customization for various purposes. With expert design, we have ensured a foundation that provides flexibility for maintenance and further development.
The modularity of the GECCO interface unit ensures the replacement of changing components such as modem circuits with newer ones. The lightweight basic assembly works in simple and cost-effective applications. With option modules, the unit can be easily expanded for more demanding applications.
Gecco technical information
Versatile programming of functions with Python-based scripting
Ethernet (IP network, external MCX router, AES67 announcement system, etc.)
2 x USB port (for USB flash drive, USB-TETRA, USB-MCX)
2 x internal LTE (+GNSS) modem (Virve 2 or commercial mobile data networks) or other Mini PCIe-based radio module (such as LoRaWAN) slot and external antenna connection (MIMO)
5 x serial port (usable for TETRA radio, GSM modem, ESPA 4.4.4 fire alarm interface, KNX automation interface, etc.)
Memory card slot (scripts, voice recordings, logging)
Traditional VHF/UHF radio general-purpose interface
Microphone / local control button interface
Central radio relay output with changeover contact
2 x opto-relay output
8 x digital I/O
4 x analog measurement input (e.g., measurement of battery voltages)
PWM output
Amplifier control (high-power sound system)
1-wire bus (e.g., temperature sensors)
CAN bus
I2C bus (e.g., for I/O expansion units)
I2S bus (digital audio)
CCIR and DTMF audio frequency signaling
POCSAG paging message transmission
Optional module: 8 pcs 5 A changeover contact relay outputs
Optional module: Audio interface card for audio connections:
– 5 analog audio inputs
– 5 analog audio outputs + speaker output
– Optionally also digital S/PDIF input and output
– Programmable routing, mixing, volume control, etc.
Both aforementioned optional modules can be used simultaneously
Operating voltage 10-30 VDC
Enclosure dimensions (H x W x D) 44 x 221 x 177 mm
GECCO PLUS
An extension software designed to work with GECCO, typically installed on Windows or Linux mini computers. It can also function independently as a standalone GECCO SW installation in certain use cases.
Visual user interface
Display of upcoming alerts
Display of GECCO status information
Local initiation of controls
Advanced IP network interfaces
Operational logging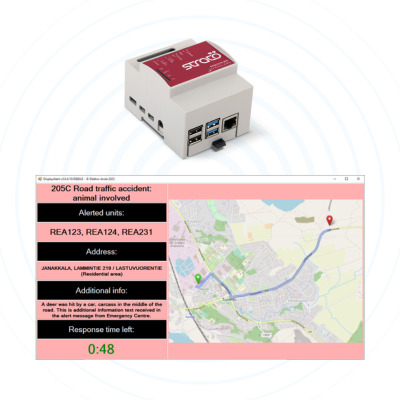 Standardized 19″ rack-mountable enclosure available for GECCO system.
Contact us
Would you like to know more? Give us a call or send us email.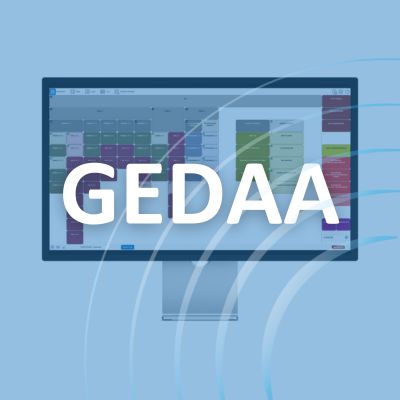 GEDAA control and monitoring software
A control and monitoring software for sound alarm devices that provides connections to other communication systems as well. The user-friendly interface and advanced automation provide comprehensive opportunities for effective multi-channel alarming in general emergency situations.